Connect Cloud HR Software is a Core HR software that provides many HR related functions. As businesses grow, the need for their HR departments grows with them, and many HR team responsibilities become more difficult to manage without the help of software solutions. Because the role of the HR team is one of the most comprehensive, it often makes sense to have one tool that can handle more of the required tasks than one tool for each HR team.
The Connect Online HR software is the best HR software that provides human resource managers with a centralized record system that can store, track, and update employee records. The data contained within these systems may be derived from a variety of HR activities and entered manually or automatically in combination with other HR software such as salary, benefit management, performance management, boarding, or compensation management systems.
Although not a feature of all HR content products, these built-in reporting tools or integrated with third-party applications help HR departments analyze employee trends and measure organizational key performance indicators (KPIs). These reporting skills facilitate the submission of potentially personnel information to key stakeholders.
Another important part of human resource management is the preparation of reports that assess employee trends such as profitability, retention, and employee performance. These reports help analyze employee data and help shape HR policies. Reporting tools built into HR core systems can simplify this process by using employee records to automatically report.
Key Benefits of Connect Core HR Software
Small businesses often have a single person dedicated to taking care of all HR-related tasks, and sometimes that is part of that person's job. As the business grows, this can be difficult for a person, especially without the help of a HR tool. If the HR department does not grow at the same pace as its business staff, be it tools or staff, errors and irregularities may follow.
Implementation
The implementation Connect HR software can be done indoors in a timely manner. This has not always been the case in the past. Businesses often required coordinators to come in and set up a business tool. Now that this is not the norm, it is wise for small and medium enterprises to consider a core HR tool.
Employee Access
Connect Cloud HR software also enables employees to view their personal information, making it easier for them to change things like the benefit option. This is a great benefit to employees, as they can be left to ask questions about things like pay or benefits. It also helps to save time for HR professionals, as they do not have to check the information in person or make changes to staff.
Compliance
Connect Cloud HR software can be an amazing help to the HR department when it comes to record keeping and compliance. HR rules are constantly changing, be it changes in health care, tax codes, or labor laws. Connect HR software can help the person in charge of HR to stay on top of these changes, and manage employee data so that any needed changes can be easily made.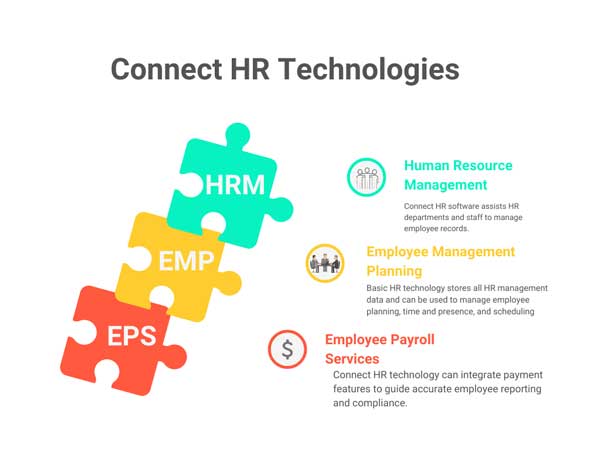 Other Services are Offered in Connect HR Related to HR Software
Connect key HR products will work to support financial and accounting functions. Payroll, for example, is something that, depending on the size of your business, is handled by the same person in charge of HR. In this case, it may be helpful to have a tool with a payment function. Even if the same person does not handle both of these functions, it may still be beneficial to purchase a product that combines these functions. The Paid Team needs access to employee data, managed by HR, so it makes sense to search for all of these functions within one system.
Connect HR products provide the ability to manage multiple HR-related tasks in one place, so there is no need for the user to move from one tool to another for each task. Other HR-specific categories, such as personnel management, may not provide operational scope but may provide additional functionality for predicting employee needs and developing employee emergency plans, for example.
Connect HR products provide a single platform to complete many HR-related needs. For more in-depth benefit features, HR departments can use benefit management software to manage all of its employees' benefits.
4.Performance Management (KPI's)
Connect HR products provide integration and performance management solutions to assist HR staff and managers to establish performance standards and evaluate performance while maintaining a single system of records.
5.Training & e-Learning
Connect HR products provide integration with eLearning training software, which includes company LMS software, planning, tracking, and managing staff training efforts while keeping all training steps in one recording location.
HR departments and staff manage benefit management, hiring, staff management, time tracking, and more. Connect Cloud HR software in Pakistan provides the functionality of all of these solutions or provides integration of other Human Resource Management software modules. The ability to manage tasks related to all of these business areas within a single tool is critical to maximizing the efficiency of the HR team.
Contact Us to know more about how Connect HR can perform wonders at your workspace…